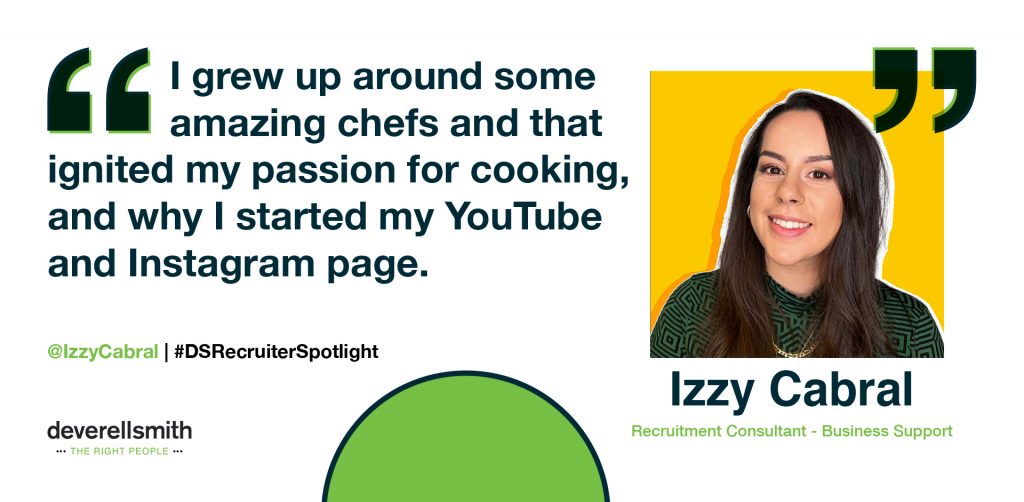 deverellsmith's recruiters come from all walks of life, and we understand life is more than just working.
 
Whether you are a marathon runner, chef or musician in your spare time, we believe ensuring you have a work/life balance is imperative to a fantastic working culture.
 
Our recruiter spotlights aim to give you an insight into who we are, and a preview into what life as a recruiter is really like. 

So, let's get to know the individuals behind deverellsmith!
Meet Izzy Cabral, our Recruitment Consultant for Business Support…
What is something significant about you that people may not know?
My Dad was born in Yemen, which a lot of people probably won't know, and he lived there until he was around 5 years old. 
My grandfather, who worked for a shipping company and dealt with the documents for people moving over. He would take a small boat out to the massive ships, get them to fill out the paperwork, and bring them back into the dock. 
Because of his ties to shipping whilst they lived in Yemen, when the war broke out, he was able to get all my family on a ship over to the UK. Now there is a road in Exeter, which is where most of my uncles and aunties live together.
I have fond memories growing up and visiting Exeter, looking out the back window with all the gardens backing onto each other, and being surrounded by my family.
What event in your life would make a good movie?
I've done a lot of work at festivals, and I'm sure some of the things that I experienced there would make some very entertaining movie scenes.
I did voluntary work at Glastonbury for three years in a row painting bins – glamourous right? We would head down two weeks before the event and walk around each of the fields painting bins with different themes. 
Whilst we were working there, we would have parties every weekend with the crew who were building the festival, and once the festival kicked off, we would get a free ticket, all our meals paid for and most importantly booze. 
It was so much fun, and I made some incredible memories.
Tell us more about your passion for cooking and your YouTube channel?
On my dad's side, my grandparents are from all over the place. My grandma is from a Somalian background, and my grandpa has a Mumbai Indian background. Whenever I would go around to their house when I was younger, Nanny was always cooking with the back door open, and I just always wanted to get involved. 
I grew up around amazing cooks, including my Mum and I started dabbling in some baking when I was younger, and my love grew from there. When I was at uni, I got a bit bored of ready meals and tried to start making my food more exciting to cook and eat.
During lockdown, I was furloughed for 8 months, and I just couldn't sit still, so I was cooking every day for something to do. I was baking for my neighbours and one of them said that I should put my cooking on Instagram because it looks so great. 
This just ignited my passion again, and that's when I started Junglist Kitchen. I combined my passion for cooking with jungle music and each picture and recipe that I share, I pair with a song recommendation. 
It's so much fun and a real passion of mine that I love to share. 
You can check out Izzy's Instagram page here for some incredible recipe ideas.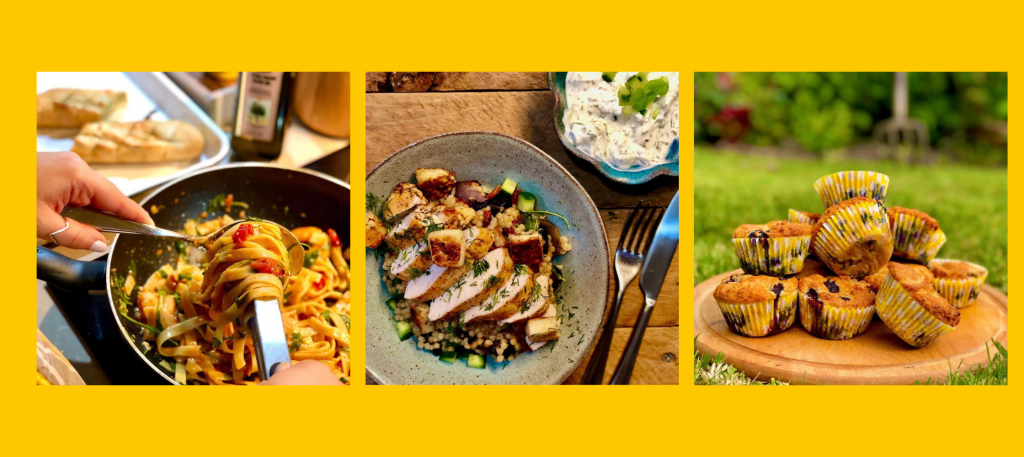 If you could dedicate your life to solving one problem, what would it be?
I know it sounds cliché, but it would be saving the planet. There is no planet B, and I think for a lot of us growing up, it was never presented as a big issue, nowhere near as much as it is now. It's just got progressively more poignant. 
At schools now they are making paperless pledges and making a real conscious effort to make a difference which is so important. We can't turn back time, but we can make positive changes moving forward.
What do you like most about working in your market?
The thing I like the most about my market is honestly my candidates. I love talking to people, and the types of candidates I look for are people that I would get on well with, so we have some fantastic conversations.
Because of the market that I am in, a lot of the candidates are around my age, and I find myself having a lot in common with them which makes my job so enjoyable. I can can get a better grasp on what they are looking for this way and help find the most suitable roles for them as I can understand in-depth what they desire.
If you are interested in a career at deverellsmith, please get in touch with our Head of Talent Acquisition Ella Beese: ella.beese@deverellsmith.com
If you would like to learn more about deverellsmith's culture click here.