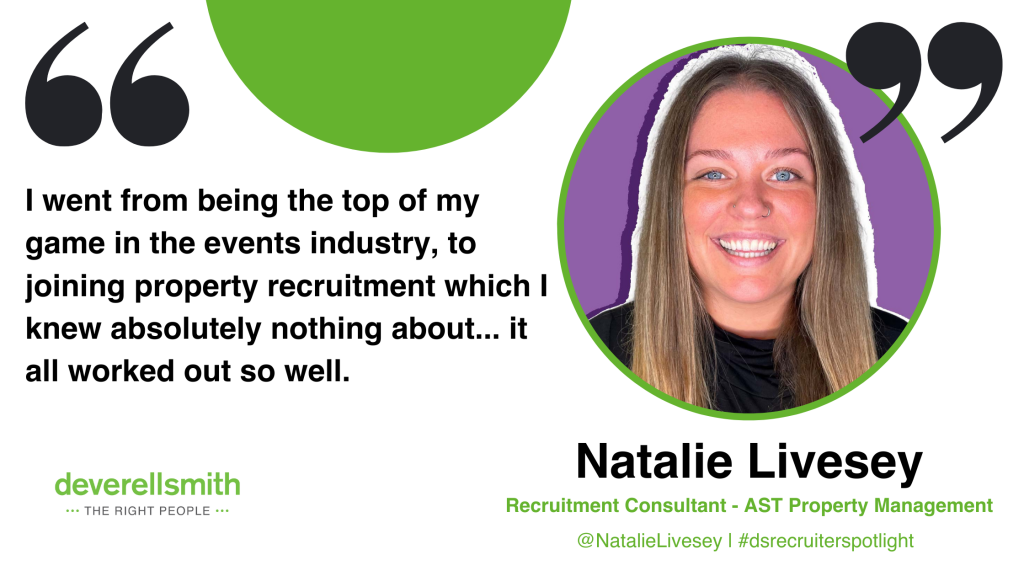 deverellsmith's recruiters come from all walks of life, and we understand life is more than just working.
 
Whether you are a marathon runner, musician or former 'Queen of events' in your spare time, we believe ensuring you have a work/life balance is imperative to a fantastic working culture.
 
Our recruiter spotlights aim to give you an insight into who we are, our backgrounds and a preview into what life as a recruiter is really like. 

So, let's get to know the individuals behind deverellsmith!
Meet Natalie Livesey, our Recruitment Consultant for AST Property Management…
Tell us a bit about yourself and your background? 
I'm from Brighton and have lived there pretty much my whole life until I moved to London about 5 years ago. 
I love to travel which is my main passion, and what I spend most of my money on. I've been travelling a total of three times, around Asia, India, and America, and I've also ventured around a lot of Europe! 
I am super close to my family; they are all like my best friends and my little crew. I really don't know what I would do without them. 
Fun facts about me…
A fun fact that most people wouldn't know about me is that I am a major maths geek, and did my maths GCSE in year 6, 5 years early! I'm all about the numbers.
I used to colour guard when I was a kid and dance with the band. I would throw wooden rifles into the air, spin, catch it all whilst dancing through hoops. You can imagine what a great party trick that is.
What inspired your career change from events to recruitment?
A while ago a couple of my friends worked in recruitment and floated the idea to me that I may be quite good at it. My role in events was very sales based, and my main job was to bring in the money for the events, which involved a lot of negotiation and organisation of the contracts. So, although I worked in events, I've always been in a sort of sales-based role. 
However, with events in hospitality and hotels, it's not all commission based, and I was doing really well, but I wasn't necessarily seeing the benefit from it. As well as that, hospitality involved a lot of late nights and weekend hours. I got to the point where I wanted more of a Monday to Friday, where I could work hard AND reap the benefits of that. That's when I found recruitment. 
What similarities did you find between events and recruitment?
100% target driven, I would work on getting enquiries in for events in the same way that I would get a job in now. In a way that I would now have my fill rate, I would have my conversion rate in events.
There are many transferable experiences, the main one being that people buy people. What I mean by that is that people buy you as much as the service you are selling. And I think that can be said for both events and recruitment. Relationship building has been a massive part of both of my roles, and I've maintained great clients and candidates that way.
Also being a people person, I love working with people and delivering a 5-star service and I see that in both events and recruitment and that's why I think I've managed to do so well in both areas. 
Share with us the craziest stories you have working in events…
I could sit here for hours and tell you some of the whackiest stories from my events days, but here are the best two: 
So, my most random event I booked was for a cabin crew award ceremony. They had a massive exhibition which had anything you would see on aeroplanes and duty-free things like perfumes, chocolate, and sweets etc. The award ceremony was held in the cinema next door, and we put on a big gala dinner for them too. Anyway, because Mars sponsored the event, they usually had two people dressed as big M&M's and they couldn't make it one year. You can guess who ended up having to jump into an M&M suit and it was carnage to say the least. I had people coming up to me all day asking for pictures, meanwhile I was sweating and completely flustered under the outfit. Would 100% not recommend.
Secondly, I had the opportunity to look after the Irish rugby team and managed them from the moment they arrived at the hotel. This involved anything from their meals to security to making sure they all got on the tour bus on time. They were all super nice and would always invite me to eat breakfast with them, and they eventually gave me tickets to watch England and Ireland play at the six nations.
What's been your biggest learning moment since being at deverellsmith?
I feel like I had my biggest learning moment week one of joining ds. I went from being the top of my game in the events industry, to joining property recruitment which I knew absolutely nothing about and to be honest it was a real shock to the system. I had to have a real talk to myself to get through it, and essentially go back to school and learn from the bottom up. I had made the commitment to the recruitment industry, and it had to work for me, this wasn't a temporary option for me, and I really needed to make it work. I knew I had to put my head down, learn as much as I could, ask questions and take it all in. It's all worked out well. 
What is your favourite benefit at deverellsmith? 
I think the culture bonus is amazing, to be rewarded for being a good person and adding positively to the working culture is unheard of, and something extremely unique about working here. It really shows they aren't just about the money it's equally about the culture and working environment of the business which I think is great.
Finally, if you could give your younger self one piece of advice what would it be? 
I would tell my younger self to travel more and really make the most of that passion whilst I had the time. I would 100% go back and work abroad when I was younger and take more time out to nurture my passion for travel. I've been able to travel, but I've had to start and stop my life for it. So, I would have liked to make the most out of that time when I was younger and travel for at least a year or two.
If you are interested in a career at deverellsmith, please get in touch with our Head of Talent Acquisition Ella Beese: ella.beese@deverellsmith.com
If you would like to learn more about deverellsmith's culture click here.